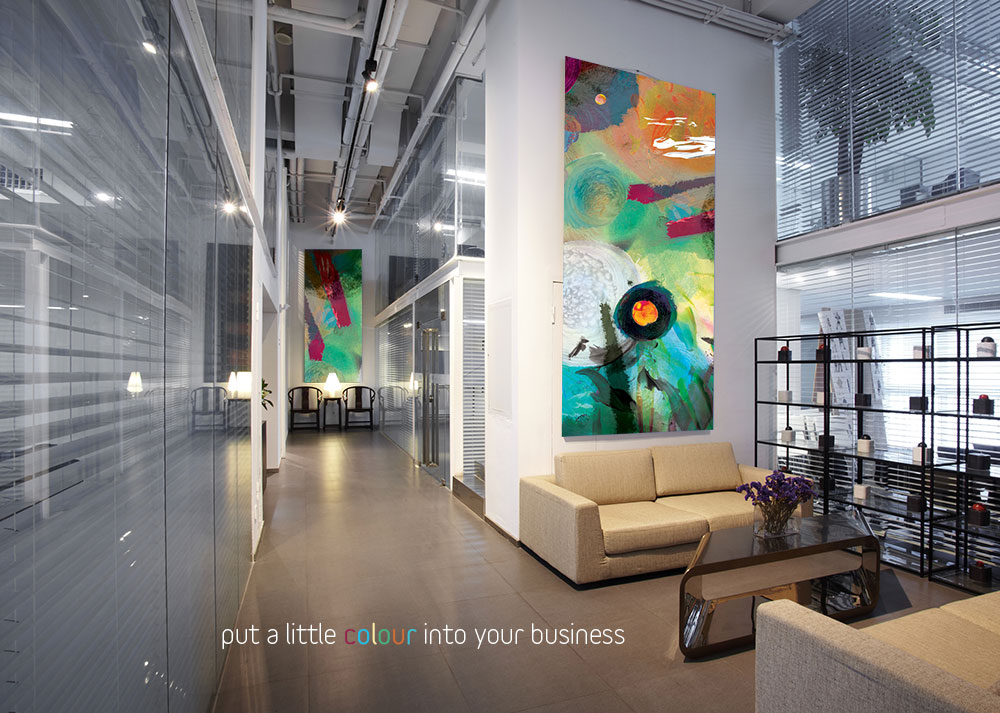 Business Art
Welcome to Jellybeanstreet, where children's art is celebrated, dull walls dazzle and children's charities are supported. We are a unique fine art company, selling artwork created from the finger paintings of little artists, some who are battling life-threatening illnesses. Each child's painting is adapted and turned into an amazing work of art by our team of dedicated graphic designers.
Profits from each print are donated to various charities for sick or disabled children, nominated by the child's parents. Our artwork is an affordable way to brighten up your corporate environment with unique, happy splashes of colour customised to match or complement any room.
Jellybeanstreet artwork is features businesses, medical centers and hospitals around Australia and the United States.
~ Cremone Medical Centre, Sydney Australia, Dr Alanna Horadam, Principal. "They've brightened a dull corridor and provided a talking point with our patients."
~ Channel Seven News. "Budding young picasso's are dabbling in art from the heart."



Colour Matched To Your Business
Acquiring colourful, contemporary artwork to suit your business couldn't be easier. All our prints can be colour matched to compliment any room in your business. Our canvas and poster sizes range from 11 x 15" all the way up to our executive 40 x 60" feature size. We also provide a custom print service with no size is too big or small to suit your requirements.

The Charities
At Jellybeanstreet we align ourselves with a great number of children's charities. We pride ourselves on giving parents the choice to nominate which charity their child's artwork raises proceeds and awareness for.
You can browse our gallery and choose a canvas or we can help you find artwork that supports particular charity from your local area, with more than 100 children's charities to choose from.

~ Women's & Children's Hospital Foundation, Adelaide ~ Jill Newman, Arts in Health Coordinator

"We have been fortunate to be the recipient of several donations from the sale of artworks and have been able to purchase art & craft supplies for sick kids in Hospital to make their time a little more entertaining - in a way this brings the idea full circle"
~ 2 Year Old Harry Dollard's Mum

"Knowing that each of Harry's artworks are helping the Women's and Children's hospital where Harry spent so much time is very special for us. It's a unique and beautiful way to give back to such an important charity"

How to Purchase
Special prices and packages are available for corporate purchases. Contact Jellybeanstreet to speak with an art consultant to organise a custom quote for your business.
Contact

Business Workshop
Make your new artwork even more meaningful, host a Jellybeanstreet workshop at your business premises. We wil come to your business to host a business art workshop with your customer's and/or your staff's children. Jellybeanstreet will promote your business and the event on our website and through social media. The artwork created from your workshop will be used to create new and wonderful art for your business and then posted online to re-sell in support of children's charities.
Contact Jellybeanstreet today to dicuss hosting a business art workshop for your business.
Contact